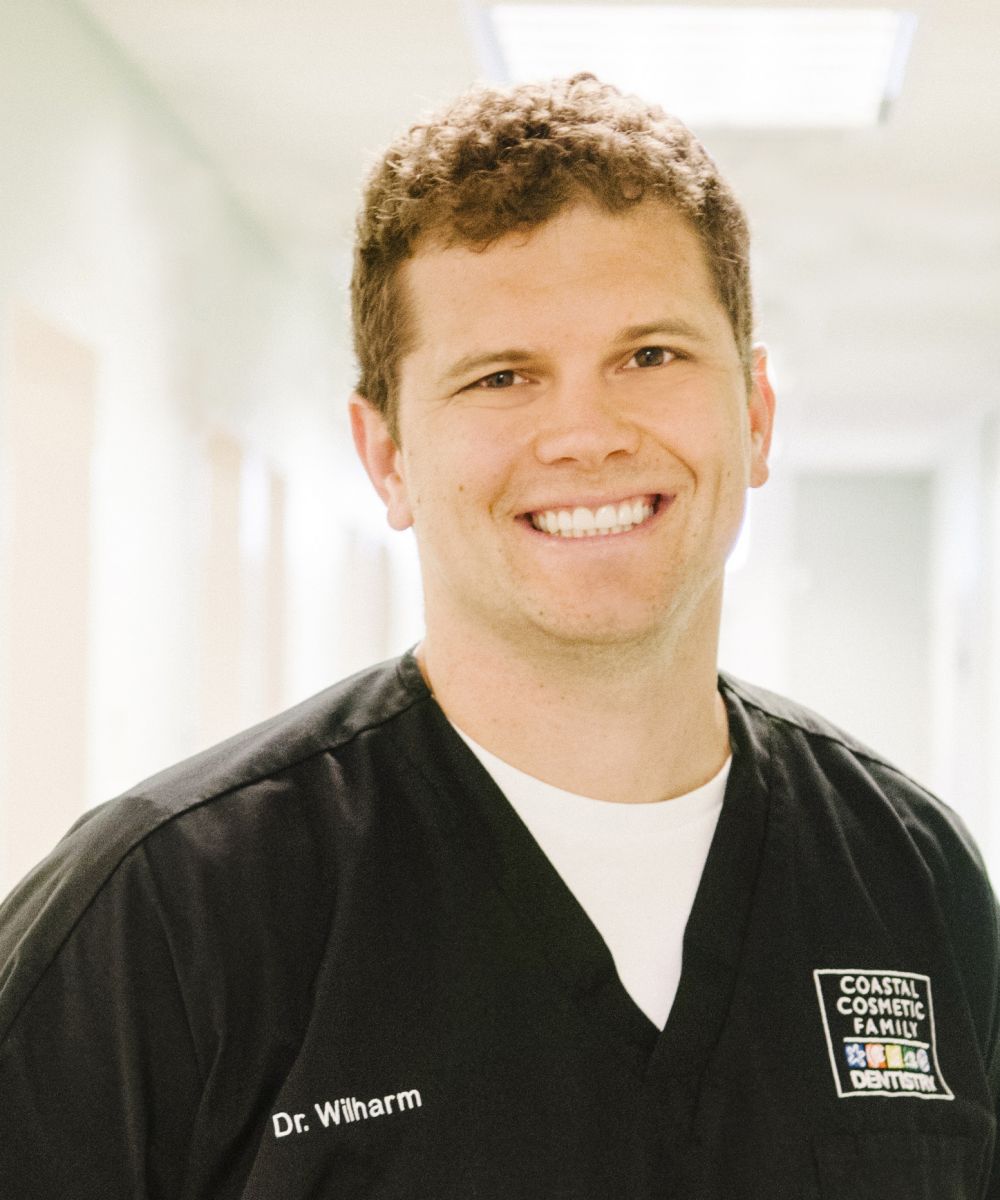 Dr. Aaron Wilharm has been practicing dentistry on Oak Island, NC since May of 2003. A native of Colliers, WV, Dr. Aaron was lured to the Carolina coast's warm climate, welcoming residents, and a laid-back lifestyle. At Bethany College in West Virginia, he studied Biology for three years before attaining early admission to West Virginia University School of Dentistry.
Following graduation from the School of Dentistry, Dr. Aaron completed a General Practice Residency at WVU. This year long program enabled him to gain advanced training in a wide variety of specialty areas of dentistry. Following his residency, he worked in a group practice in Morgantown, WV. Although he is very proud of his home state, Aaron couldn't resist the attraction of North Carolina.
In November 2007, Dr. Aaron completed 216 hours of continued education in a nine-month implant continuum taught by the Triangle Dental Institute in Research Triangle Park, NC. His training included lectures, workshops, and one-on-one mentoring on implant surgical placement and restoration, associated bone preservation and ridge augmentation grafting, and connective tissue grafting.
Most recently, Dr. Aaron received a Fellowship Award from the International Congress of Oral Implantologists (ICOI). The ICOI was founded in 1972 and has 12,000 members worldwide in 89 countries. It is the world's largest dental implant organization, as well as the world's largest provider of continuing dental implant education and currently has 2,582 active Fellows in the United States. The awarding of Fellowship status is one of the highest honors a professional society, such as the ICOI, can bestow on a dental professional involved in oral implantology. Nominees achieve Fellowship status through their efforts in education, research and actual clinical experiences.
Dr. Aaron actively pursues higher levels of continuing education and always exceeds the requirements of the state. He often attends week long courses at the Kois Institute of Seattle, WA, taught by Dr. Kois, in the treatment of complex dental problems. He attends surgical courses in Florida under Dr. Michael Pikos and he has trained extensively on a procedure called 'Same Day Teeth', that allows a patient to have an entire arch of teeth repaired with dental implants in one visit. He has also earned certification for oral conscience sedation and Invisalign®, and volunteers at the New Hope Clinic treating patients that have less access to care.
Dr. Aaron is the author of the children's book Sugar Bugs to help educate children on Dental Health. The proceeds from the sale of Sugar Bugs go to benefit Addison's Aid, a nonprofit created in 2010 by the Wilharms in honor of their daughter Addison, to help children with hearing impairments. Also a member of the Board of Directors of the Care Project, a foundation that helps families with children who have hearing impairments. Dr. Aaron is also one of the co-founders of Freedom Day USA, which offers free dental services to active military, veterans, and their families.
Dr. Aaron has been married to his beautiful wife, Lindsay since May of 2002. Lindsay is currently enjoying her time at home with their son, Hudson and daughters, Addison and Harper. Since living in Southport, Lindsay and Aaron have fallen in love with the area's quality of life, taking full advantage of the beach, boating, fishing, and riding bikes through downtown Southport.
The Wilharms continue to be amazed with the friendly and easy going attitude of coastal Carolinians. They are delighted to raise their family in such a beautiful place! The Wilharms are members of Trinity United Methodist Church in Southport, and are members of many other local social and professional organizations.