General Anesthesia
General anesthesia is generally reserved for oral surgery procedures. The heaviest form of sedation, it is administered intravenously to allow medication a direct pathway to the bloodstream. When patients undergo general anesthesia, they are completely asleep with breathing and vitals monitored at all times by our resident anesthesiologist.
Meet Dr. Cangemi – Anesthesiologist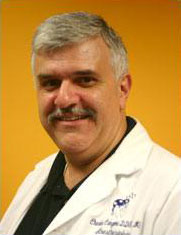 Dr. Cangemi earned a degree in dentistry from the University of North Carolina at Chapel Hill (UNC), where he received the Grover C. Hunter Jr. Award for academic and clinical excellence in Periodontics. He then completed a residency at UNC in Advanced Education in General Dentistry.
While working in private practice, Dr. Cangemi completed his certification in intravenous sedation. He became greatly interested in anesthesiology, and soon obtained a Certificate of Residency as well as a Master's in Anesthesiology from Ohio State University. Dr. Cangemi has worked as an anesthesiologist for dentists, pediatric dentists, dental surgeons, and other dental specialists conducting a wide variety of surgical procedures.
Dr. Cangemi is a National Dental Board of Anesthesiology Fellow, as well as a committee member of the American Dental Society of Anesthesiology. He is also on the NC Board of Dental Examiners, is certified in various life support techniques, and has authored numerous works in medical journals.