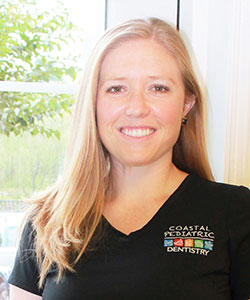 Dr. Nichole was born in Wilmington, NC and later lived on Oak Island before moving to Clearwater, FL. She returned to North Carolina to earn her undergraduate degree in Biology at Wake Forest University and received her Doctor of Dental Medicine at East Carolina University.
Following dental school, Dr. Nichole gained specialty training in pediatric dentistry at NYU Langone Health – Brooklyn (formerly Lutheran Medical Center) in New York City. She has recently moved back to North Carolina and is excited to join Dr. Cecilia Liu and the Coastal Pediatric Team.
Dr. Nichole was drawn to dentistry for its multi-faceted nature. She is enamored by the technical aspect of dentistry as well as the relationship-building. She is passionate about working with kids – so a specialty in pediatric dentistry was a perfect fit!
Outside of her work life, Dr. Nichole enjoys being outdoors, especially on the water with her husband James and chocolate lab Ellee.